Music Man
Music & Movement Specialist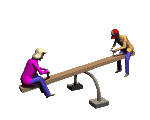 (602)667-6967
I teach music fundamentals and movement to kids ages two and older. I teach pitch, tempo, dynamics, rhythm, etc., using a "fun and games" context, including:

Parachute
Rhythm Instruments Some home-made songs:

Name That Tune The Sad Song Octave Follow The Rules I Brush My Teeth
Scarf Play
Follows
Games
Chants

Boom Box
Costumes
Finger Play
Pantomime
Interactive Storytelling
Dances
Fun!

Fun!
Fun!
Fun!
Themes:
Graduation Ceremonies
Holidays
Trains
You name it!
I move room-to-room and will spend half a day in your facility. I have been working here in the valley four years and have referrals, available upon request.
Please call for scheduling and rates.
(602)667-6967
Return to Michael & Bruce's Page
Our pages are best viewed with Internet Explorer 5.01! Get it here FREE!